Travesía Rosa: Swimming for Early Breast Cancer Detection in Argentina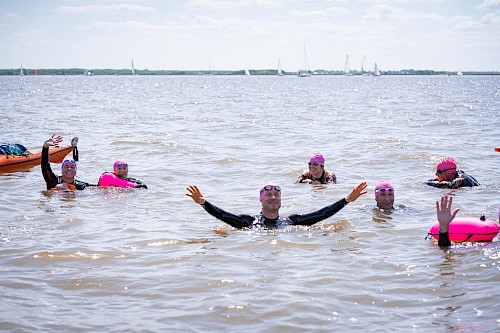 Río de la Plata, with its majesty and mystery, bears witness to an endeavor that goes beyond sports. "Travesía Rosa," a 10-kilometer charity swim, has become a symbol of solidarity and hope. In this aquaEc odyssey that starts from the Club Universitario Buenos Aires and concludes at the Club NauEco San Isidro, 60 brave swimmers come together to make a difference and change lives.
Travesía Rosa is not a competition. Its purpose goes beyond reaching a goal; it's a journey of awareness and fundraising to combat breast cancer in Argentina. Early detection is key to increasing the survival rate of affected women, as breast cancer, when detected early, has a 98% survival rate. However, when breast cancer is not detected in time, the survival rate decreases dramatically, reaching only 27%. This statistic underscores the urgent need to promote early detection and early diagnosis.
Swimming for a Purpose
Breast cancer is a threat to women worldwide, where, on average, 1 in every 8 women will develop breast cancer at some point in their lives. This statistic highlights the need to focus on early detection and the importance of Travesía Rosa. Travesía Rosa aims to address the challenge of early detection in developing countries like Argentina, where difficulties in accessing diagnostic studies for breast cancer can be an obstacle. This event raises funds to purchase mammograms, a vital tool for early detection, and, therefore, to increase the survival rate.
60 Swimmers, One Cause
The 60 brave swimmers embarking on this journey are an example of determination and dedication. Each of them is committed to making a difference, contributing not only their
physical effort but also their passion for this cause. Together, they symbolize the unity of the community in the fight against breast cancer and the promotion of early detection.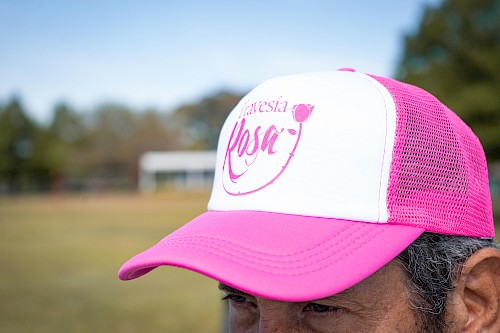 The journey is not just an athletic challenge but a testimony of empathy and solidarity. Each swimmer represents the thousands of women fighting breast cancer in Argentina and around the world. Each stroke is a message of hope.
How You Can Contribute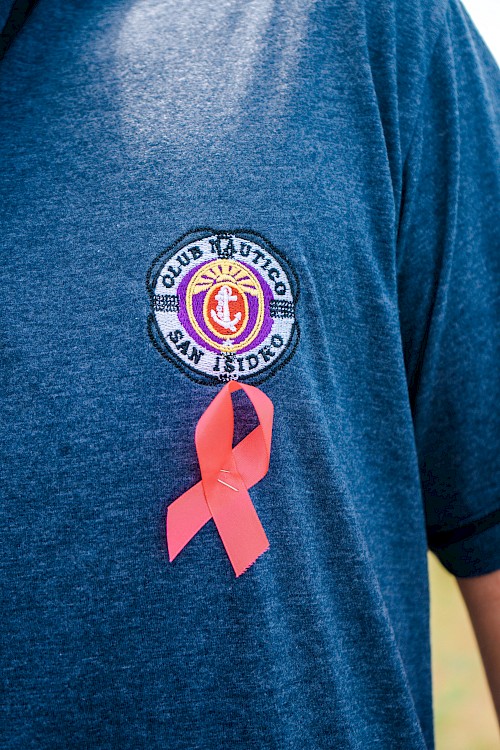 You can also be a part of Travesía Rosa, even if you are not a swimmer or do not live in Argentina. You can contribute in several ways:

1. Swimming: Be one of the swimmers completing the distance. Each swimmer makes an initial donation to partecipate.

2. Donations: Every contribution counts. Your donation can help fund life-saving mammograms. Visit www.travesiarosa.com and choose the partecipant's name to donate
to. From outside Argentina you should use https://www.paypal.me/22historiadeundesafi

3. Awareness: Share the story of Travesía Rosa on your social media and with friends and family. Awareness is the first step toward change. https://www.instagram.com/travesiarosabsas https://m.facebook.com/travesiarosa?wtsid=rdr_0cCT1VwTNRCd3SlAe

4. Volunteering: If you have time and skills to offer, consider volunteering at events related to Travesia rosa. Contact info@travesiarosa.com.
Travesía Rosa is more than a sports event; it is a symbol of hope and an opportunity to make a real difference in the fight against breast cancer in Argentina. Through swimming
and solidarity, we can come one step closer to a future where this disease is defeated. Every donation, every stroke, and every effort brings us closer to that goal. Join us in
Travesía Rosa and be part of the change. Together, we can make a difference!